The New Bivalent COVID-19 vaccines are now available at local pharmacies. To learn more about COVID-19 vaccines
Please visit
ct.gov/covidvaccine
for more information.
If you are experiencing emotional distress due to COVID-19 please visit www.emotionalppe.org. EmotionalPPE.org is a nonprofit organization catering specifically to assisting health care workers during these difficult times.
Protection of Public Health and Safety During Covid-19 Pandemic
Long-Tem Care Facility Vaccination
---
MANDATORY COVID-19 VACCINATION POLICY FOR EMPLOYEES, INDIVIDUALS UNDER CONTRACT FOR PROVISION OF SERVICES, AND VOLUNTEERS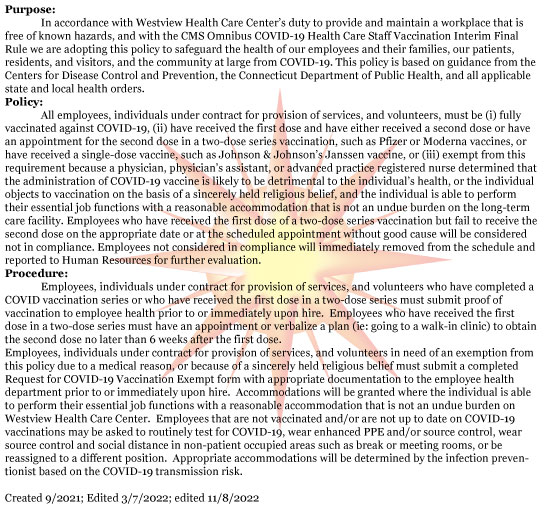 EMPLOYEE
COVID-19 SCREENING
Updated 10/11/2022
---
All individuals should perform hand hygiene and put on a facemask upon entering the facility. Prior to entry to the facility all individuals must self-screen for any symptoms or exposure to the COVID-19 virus.
See Employee COVID-19 Screen Attestation Form (here).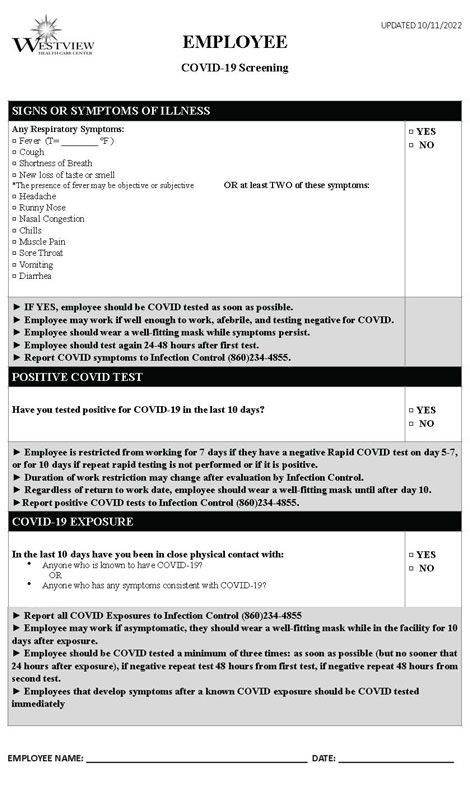 Westview Employee Screen Attestation
Updated 11/3/2022